Jameis Calls A "Clayton Kershaw"
December 14th, 2015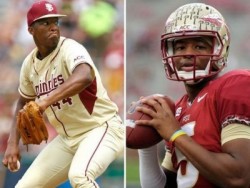 Yes, America's Quarterback, Jameis Winston, has been winding up like his former-college-baseball-pitcher self and letting loose the heat.
There's even video!
If you missed the FOX segment below, Jameis talks a little baseball and gets back in the pitching groove. Jameis even gets all serious talking about how he feels he could have been a Major League Baseball pitcher.
Enjoy this quality waste of two minutes of productivity.