"I'd Be Careful On Listening To What The Commentators Say On What We Should Be Doing"
December 1st, 2015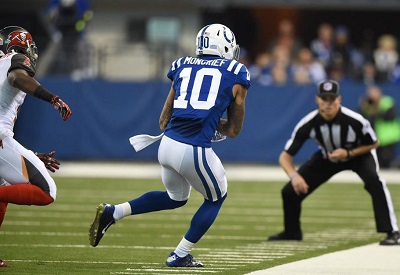 It's a pretty safe bet that Lovie Smith wouldn't watch a Bucs game with the sound on.
The head coach got a little cranky (for Lovie) when told last night that game analysts were blasting the Bucs for not having cornerbacks reroute Colts receivers at the line of scrimmage Sunday.
"I'd be careful on listening to what the commentators say on what we should be doing," Lovie told the Buccaneers Radio Network.

"How could you when you don't know what the [defensive back] is supposed to do. How could you really know?"
Lovie went on to repeat that things aren't so simple when you're not on the field or a coach on the bench.
"What do those commentators know anyway?" Lovie said.
And Lovie wouldn't let it go, then got technical, and then made it clear that Sunday's defensive breakdowns weren't about rerouting receivers.
"One of our signature coverages, Cover 2, most of the time we should get a reroute on the receiver, but that's only if the receiver is in a position where we can reroute him," Lovie said. "If he goes underneath right away, there are some times where it doesn't cause for you to get a reroute. The receiver can actually reroute himself. So I'd be careful on just looking and saying, 'Hey, we didn't get a reroute on this play.'  It has to be there. It's not always the case."

"Yesterday, based on the things that we didn't do well, I can't say that rerouting had a whole lot to do with plays that weren't successful with us defensively, as far as defending the pass."
Dick Stockton and Matt Millen called the game for FOX.