"I Didn't Show Up"
December 22nd, 2015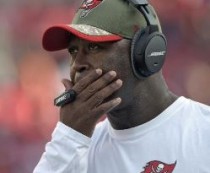 You want to pin the Rams loss on someone?
There's a guy raising his hand at One Buc Palace.
He is America's Quarterback, Jameis Winston.
Few heard Jameis' instant reaction after the loss on Thursday Night Football. And Joe's got it below, via the 620wdae.com audio player.
"First half was definitely my fault. I didn't play good enough in the first half for us to be successful in the second half," Jameis said. "I just had to play. Everyone else showed up. I didn't show up. And I just got to play, I can't put us in that predicament."
Man, Jameis sure says the right things. He also would allow zero credit to be given to the Rams for their lone interception.