Gerald McCoy Sports A Three-Inch Scar
December 6th, 2015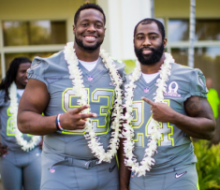 Joe got a good look at Gerald McCoy's injured hand today in the locker room.
Running right up the center of his left hand, on the outside, is a three-inch scar.
The hand was noticeably swollen, as well. It's not hard to assume it's from the "procedure" McCoy had after the Colts-Bucs game a week ago.
Will McCoy return soon? No. 93 wasn't talking after today's game. That's no surprise. McCoy rarely talks if he wasn't participating in a game.
Joe wishes McCoy a speedy recovery.