Fourth Consecutive Pro Bowl Nod For Gerald McCoy; Doug Martin Returns For Pineapple
December 22nd, 2015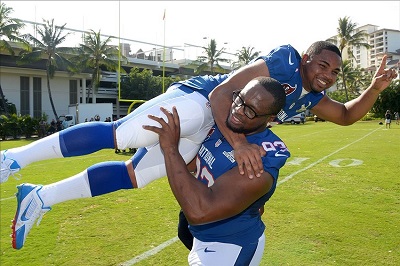 A couple of Bucs are headed to Hawaii, and two more are alternates for the NFL's all-star show at the Pro Bowl.
Fans, coaches and players voted Doug Martin and Gerald McCoy back to the Pro Bowl, the NFL announced tonight. Each group has a one-third say. Martin and McCoy are shown above horsing around at the Pro Bowl following the 2012 season, the first appearance for each of them.
This year, McCoy earns his fourth consecutive nod, but he didn't play last year due to injury. Martin returns for his second honor.
Lavonte David and Logan Mankins were named alternates. David has never been named to the game. Mankins made six consecutive trips before arriving in Tampa before the 2014 season.