Doug Martin Was Not Disciplined
December 9th, 2015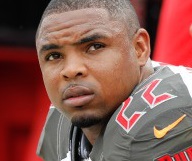 Yes, there has been rampant speculation that Doug Martin was benched after a key fumble late in the win against the Falcons.
Joe asked offensive coordinator Dirk Koetter about that moments ago.
Koetter smiled and said any talk of that was nonsense. Charles Sims replacing Martin after the fumble was just part of the regular rotation.
Koetter acknowledged that he recently heard of the chatter and wanted to be sure everyone knew it had no merit. He would never pull a player for a mistake, Koetter said, that's not how the Bucs operate.
Joe can't disagree with Koetter. Mike Evans sure is evidence of that.