Does Lovie Want Alshon Jeffery In Tampa?
December 23rd, 2015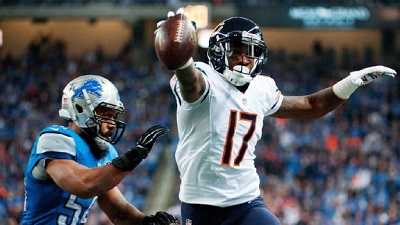 NFL head coaches, especially Lovie Smith, rarely offer personal feelings about players on opposing rosters.
But Lovie did that this week on the Buccaneers Radio Network.
Particularly interesting is that the player discussed was Bears stud but injury-prone wide receiver Alshon Jeffery. If you follow Bears football, then you know Jeffery is the source of serious talk around Chicago.
Jeffery's four-year rookie contract is ending and it's unknown what Chicago, a team in transition, will do.
John Fox is a new head coach. Jay Cutler only has one more year left on his giant contract, and Jeffrey, a late second-round pick in 2012 under Lovie's Chicago regime, has been banged up all year. Jeffery has only started eight games this season and might not play Sunday against the Bucs. During his rookie year, he had a hand injury and midseason knee surgery.
Jeffery, 25, is coming off back-to-back seasons of 1,100+ yards receiving and was a Pro Bowler in 2013.
Lovie spoke Monday about a handful of players that he still knows on the Bears, and one guy got more than just his named called, "Alshon Jeffery, one of my favorite players that I coached," Lovie said.
Speculation in Chicago says the Bears might slap the franchise tag on Jeffery, but others speculate Fox will let him walk and invest elsewhere, and soak in the likely supplemental draft pick that would come as a result.
Joe has to think Jeffery would be awfully attractive to the Bucs, and news of Lovie's love of Jeffery enhances that.
Joe would take Jeffery over Vincent Jackson in a heartbeat.