Derrick Brooks: Switch To Lovie Calling Defense Was Significant Transition
December 17th, 2015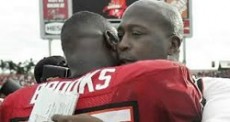 What's better than listening to Hall of Famer and Tampa Bay icon Derrick Brooks share his savvy Bucs insight?
Outside of watching a game and pleasures of the flesh, Joe can't think of anything.
Brooks took to the WDAE-AM 620 airwaves yesterday for his Wednesday sit down with Steve Duemig.
Joe was intrigued by Brooks talking about Tampa Bay dealing with change and transformation all season, from personnel combinations to coaching shifts. Among various challenges he highlighted was Lovie Smith taking over playcalling duties from Leslie Frazier after preseason games began.
Tonight will be a great test, Brooks explained:
"Now they're testing their depth, with injuries. The depth and the resolve of this football team gets tested. The consistency, I hate to say, of roller coaster lineups. …

"Again, they had to switch in terms of the defensive leadership. You know, Coach decided to take over the defensive calling. I know it's not talked about a lot today, but that was, you know, transition they had to do on the run and adjust to it. So they learned a lot about themselves in this roller coaster ride that I believe is going to make them better.

"And here's another opportunity for them to respond in a teachable moment: Short week on the road after a disappointing loss. December — find the energy to respond when for all intents and purposes, say you're out of the playoffs. How you continue to fight. Where's the motor? Star players hurt. Who can step up? Who has to step up on a short week, national TV? So these are learnable moments that this team gets to find out about themselves every single day."
Very interesting to hear Brooks reference the change from Frazier to Lovie like he did. When it happened, Lovie told media multiple times that it would be a seamless move and no big deal whatsoever.
To hear all of No. 55, listen to the WDAE-AM 620 audio player below.