Bucs Protect Mike James; Spence To IR
December 26th, 2015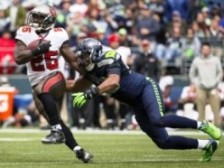 The Buccaneers' rookie running back lighting it up in 2013, Mike James, largely has been an invisible man in Tampa ever since.
He was cut in September and has been living on the Tampa Bay practice squad. Apparently, no other NFL team came calling for his services. (Joe really thought New England would, but they opted for the Bucs' 2015 seventh-round pick, Joey Iosefa.)
But as is the case late in a season, teams like to promote practice squad players they're interested in keeping around entering the following year. Today, busted up defensive tackle Akeem Spence was placed on injured reserve and James was promoted to the 53-man roster.
If James wasn't promoted this season, then he would have ended the campaign as a true free agent.
Joe doubts James will be on the active list tomorrow against the Bears, but possibly he'll get a shot in the season finale. If Doug Martin has the rushing title locked up in Week 17 — or has no shot at it — then there's no reason to have Martin on the field.