Bucs-Panthers Finale Moved To 4:25 P.M.
December 27th, 2015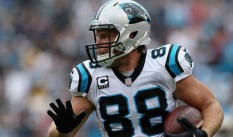 This Bucs season just got a few hours longer.
The NFL has moved the Bucs' season finale next Sunday at Carolina to a 4:25 p.m. kickoff. It originally was scheduled for 1 p.m.
As Joe wrote earlier, the Panthers (14-1) need a victory to clinch the No. 1 overall seed in the NFC. Current No. 2 seed Arizona (13-2) will host Seattle at the same time.
Yes, there were will be no patsy finish for Tampa Bay, no second rate team like the Saints, Rams or Bears remains on the schedule.