Belicheat Riding Bucs' 2015 Rookie Draft Pick
December 20th, 2015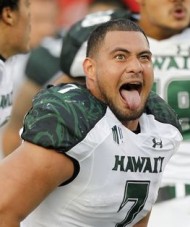 Last week, it was cornerback Leonard Johnson on the field for the Patriots.
Today, the man chosen to take over for injured LeGarrette Blount in New England was drafted by the Bucs this year.
Joe's talking about the star from the University of Hawaii, the prideful Samoan, rookie fullback Joey Iosefa. He was the 2015 seventh-round pick by Tampa Bay and didn't make the team.
After two months on the Patriots' practice squad, Iosefa was promoted by Bill Belicheat yesterday. And there was Iosefa this afternoon, grinding out yardage early in the Pats' home game against the Titans.
Iosefa finished with 14 carries for 51 yards. He was the leading rusher in the game.
Now Joe is not saying the Bucs should have kept Iosefa. They're hardly hurting for running backs. But it's darn interesting that the Patriots could have signed Mike James off the Bucs' practice squad, a Greg Schiano man usually coveted by Belicheat, yet they signed Iosefa instead.
If Iosefa and Johnson play key roles in a Super Bowl victory, then Joe might need a liver transplant.