11 Hits On Jameis
December 18th, 2015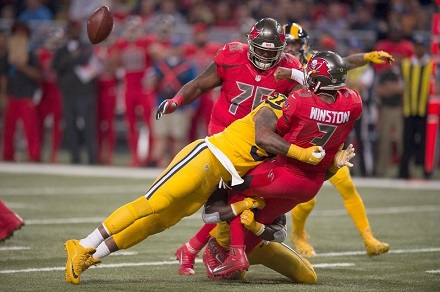 America's Quarterback was America's punching bag in St. Louis last night.
Rams defensive tackle Aaron Donald was playing at a different level than the Bucs' offensive linemen, and there were way too many other guys taking free shots on Jameis Winston.
Per the Buccaneers Radio Network after the embarrassing Bucs loss, host and former Tampa Bay tight end Anthony Becht was talking about the stat sheet showing Jameis absorbing 11 hits.
Becht was troubled by the Bucs' slow start and by the how the O-line just got manhandled out of the gate.
That last part is what upsets Joe most. The Bucs were outwilled, outmuscled and outclassed at the opening whistle. Why does this keep happening?