Yesterday, Today And Tomorrow
November 30th, 2015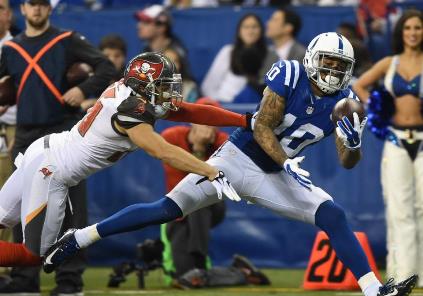 So now the Bucs really have their backs to the wall. With five games left, the Bucs must win no less than three games to have a small chance at a Wild Card. It can still happen.
The next three games are very winnable: The Dixie Chicks, the Saints and the Rams are all circling the drain. But yesterday was a massive hit. The Bucs had a lead at halftime on a team with a 40-year-old backup at quarterback. But the Bucs didn't do a damned thing in the second half.
Curious Case Of Doug Martin
As Joe wrote earlier, it sure smells. Doug Martin was having his typical Muscle Hamster day and was all but shelved in the second half. He had only three carries in the final 30 minutes in what was a one-score game until the Colts had a soul-crushing 7:30 scoring drive.
Lovie likes to run the ball. Bucs offensive coordinator Dirk Koetter has reminded fans of this on several occasions. Yet for some reason, Martin was taken out of the game. Lovie tried to say after the game it was because the Bucs were looking for production, yet Martin averaged 6.9 yards a carry yesterday.
Was Martin hurt? Was Koetter following orders to bench Martin? Or worse, did Koetter bench Martin?
Yes, Joe knows Martin is in a rotation to keep him fresh and keep him healthy, but three carries in the second half is more than simply a rotation issue. Something isn't right here.
Offensive Line At Fault
For the first time in a long time, the Bucs' offensive line got manhandled yesterday. While the line did OK in the first half, the Colts brought the kitchen sink in the second half and the Bucs never had an answer.
Trent Cole worked over Donovan Smith and Evan Smith got exposed in the second half, as well. And the offense was shut down as a result, not even America's Quarterback, Bucs signal-caller Jameis Winston had any sort of time to set up in the pocket.
Whatever the Colts exposed in the front line of the Bucs, you better believe the Bucs will see it again and again until they learn how to stop it. So this is worth monitoring next week. Without sufficient blocking, this team is toast.
Kwon Expected To Be Gone
Unless the NFL pulls a rare and unexpected move in lessening Kwon Alexander's four-game suspension for using banned performance enhancing drugs, Alexander will not return until the final game at Carolina.
Will the Bucs still be battling for a wild card berth?
That is one reason Tampa Bay so needed a win over the Colts because the Bucs will be shorthanded one of their best players on defense for the next month.
Joe was told last week Alexander would certainly appeal the suspension, and he had a five-day window to exercise that option. That window shuts today. Joe asked Alexander yesterday if he did indeed appeal the suspension but Alexander refused to comment.
Penalties Killing Bucs
The Bucs, if they miss the playoffs, can look to a lot of reasons for the missed opportunity, but none will overtake how crippling penalties have hurt this team.
Yes, Joe noted yesterday how the Bucs are on pace to set an NFL record for penalties. At times, this team looks woefully undisciplined. Holding calls, dudes jumping off other teammates on place kicks (what is it about illegal jumps and the Colts?), and of course, not catching the friggin' ball (another story for another day).
Two penalties cost the Bucs a total of eight points. That's one touchdown. And maybe more. A penalty took away an interception deep in Colts territory.
Penalties are a bad reflection on the coaching staff. Why aren't they learning? Joe heard Gerald McCoy a few weeks ago saying there is no excuse for him jumping offsides because he is quick enough he doesn't need to cheat. Yet here it is after Thanksgiving and he did it again.
NFL Thoughts:
Lions: Ever since the Lions ran Vince Lombardi's grandson and got a new offensive coordinator, Detroit has been on a tear. Oh, and see-ya, Chip.
Stinking Panthers: A magical season continues for Carolina. Imagine if they had Kelvin Benjamin?
Bears: John Fox really has the Bears defense coming around. And bratty Jay Cutler isn't playing so bad. Starting to look dangerous.
Vikings: This is going to be fun watching the Vikings and the Packers battle for a division title.
Bengals: All Andy Dalton does is win and this win has Jeff Fisher cussing in public.
Texans: Uh, oh, but all of a sudden Romeo Crennel as the Texans' defense playing good ball.
Chargers: Always dangerous with Philip Rivers and nice way to dodge a pesky Jags squad.
Chiefs: Since the bye, Andy Reid has the Chiefs on fire. Oh, and look! Alex Smith threw a touchdown pass!
Jets: The Jets keep their playoff hopes alive by smothering Ryan Tannehill, who is beginning to look like the Josh Freeman of Miami, only with a smoking hot wife to cry to.
Raiders: Escaped Nashville with a win. Like the Bucs, they are 5-6 and still sniffing a wild card berth.
Redskins: Kirk Cousins is magic and suddenly the Redskins are in first place in the NFC East. Threw for 302 yards.
Cardinals: Probably the best team in the NFC west of Charlotte. Almost has a disastrous loss to the 49ers, but prevailed.
Seahawks: Won a shootout with the Steelers and just when folks were ready to shovel dirt in the face of Russell Wilson, he goes out and flings five touchdown passes.
Broncos: Brock Osweiler beat the Belicheats. AH-hahahahahahahahaha!
Non-NFL Thoughts
* Yes, Clemson is the best team in the land per the polls, but they sure got a scare from South Carolina. Not sure that Clemson can get past North Carolina in the ACC title game. The Tar Heels sure play some defense.
* Joe can't see Alabama doing anything but freight-training Florida, who has played some really lousy ball the past two or three weeks. Joe was shocked by how inept Florida was against Florida State, and that's not even a good Florida State team. No wonder Jimbo Fisher was ecstatic after the game.
* For Joe's money, no team is currently on a roll like Oklahoma. Ending the season with wins over (then) undefeated Baylor, one-loss TCU and undefeated Oklahoma State was unreal. ,they gagged against a garbage Texas team in October but name a school that went through a juggernaut schedule the past month like the Sooners did.
* Just going to guess that the fourth team in the playoff (barring Clemson losing to North Carolina) is the B1G winner between Iowa and Sparty. In a way, Joe would like to see Iowa in there to hear all the SEC types holler in a fit of rage.
* So Georgia fired Mark Richt. Joe isn't very surprised. A good man who seemed to run a clean program who always seemed to have won nine games can only last so long in the SEC without winning a title. That is the fix Richt found himself in. Not sure Georgia will find a much better coach.
* If you were Miami, how quick should you be breathing down Richt's neck? Imagine Richt, a solid recruiter, being dropped in the middle of South Florida? The Hurricanes couldn't get a better candidate. Problem is, would Richt, a former Canes quarterback, at his age want to take on a rebuilding project?
* Speaking of coaches who don't win SEC titles, how long before Kevin Sumlin is on the hot seat in College Station? The guy always has good recruiting classes and with Texas being down pretty much can control the rich, fertile recruiting grounds of the Lone Star State. Yet the Aggies under Sumlin haven't done a damned thing without Johnny Football and Sumlin can't seem to make up his mind who to start at quarterback and who to run off campus.
* The tricky thing is who gets the USC gig? Yeah, sure, there are rumors that Chip Kelly would be in line, but does he fit the culture there? USC has always been about dropback quarterbacks for decades, as long as Joe can remember, and not this gimmicky spread-option nonsense. That would be like Nebraska going pass happy. Oh, wait…
* Joe is happy to see the Cajuns sobered up and decided to keep Les Miles.
* If Kirby Smart doesn't get a head coaching gig this offseason, either the guy just doesn't want to be a head coach or he is a horrible interview.