THE OPTIMIST: Busting Barriers
November 22nd, 2015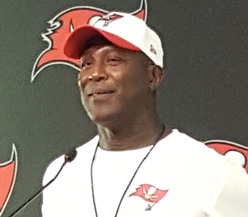 In these unsettled times of devastating Bucs losses, constant change and growing pains, Joe thought it would be wise to bring back THE OPTIMIST.
THE OPTIMIST is Nick Houllis, a Bucs fan and an accomplished writer whose steadfast allegiance to the Buccaneers goes back to the 1970s. Houllis is the founder, creator and guru of BucStop.com, a place Joe goes to get lost in time via Houllis' stunning video collection.
THE OPTIMIST will shine that positive light in your eyes. Some will love it. Some won't. … Of course, THE OPTIMIST's opinions are his alone and are not influenced by Joe.
Slowly but surely, the spigot of fuel for the "Fire Lovie" brigade is closing off.
More and more we see things like Jameis Winston becoming the emotional and spiritual leader of the Bucs, wins in the fourth quarter, a pair of cornerbacks capable of playing somewhat decent defense, and did I say wins?
But sometimes, things get overlooked, events people don't really think about.
Raise your hand if you knew before anyone on FOX, ESPN, or any other acronym besides FBI, CIA, and ATF told you, that the Detroit Lions had not won a game in Lambeau Field since 1991? (Until last Sunday)
Old time Bucs fans get how long ago that was. Some of the players that had a hand in the Bucs defeating the Eagles that year?
Chris Chandler
Bruce Hill
Gary Anderson
Reggie Cobb
Mark Royals
Willy Drewery
Lawrence Dawsey
Ray Seals
Keith McCants
Broderick Thomas
Well, funny thing happening around One Buc Palace, our Tampa Bay Buccaneers under Lovie Smith have also smashed some long-standing barriers. The Bucs hadn't beaten the New Orleans Saints since Raheem Morris beat them with Josh Freeman in October 2011. That was seven in a row.
Just last week, the Bucs finally beat the Dallas Cowboys after five straight losses going back to the season after Bucs won the Super Bowl! It includes games at Texas Stadium, the Thanksgiving disaster, and the 2011 "I know quit when I see it, and quit is not disguised tonight" game. The quote Deion Sanders made infamous to a national TV audience.
Last year, Lovie took a terrible Bucs team and did something John McKay couldn't do twice, nor any other Bucs coach, and that's win in Pittsburgh.In fact, it was only the second franchise win over the Steelers. Period. Tony Dungy got the only other one in 1998.
As bad as our offense was last ear, it was the first time Tampa Bay finished with two 1,000-yard receivers in the same season! (VJax and Mike Evans)
With every week, the offense under Jameis gets more experience and polish, even without key receivers. We could be on the brink of the best offensive rankings this team has ever seen.
The Bucs have never ranked higher than ninth in total offense, and it's close after nine games this season.
So lets give some credit, not just blame, to Lovie Smith!