Sullivan's Return
November 5th, 2015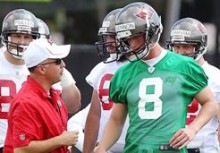 Given the crap show across 25 percent of the NFL at the starting quarterback position, it's easy to make the case that New York Giants quarterbacks coach Mike Sullivan did a hell of a job in two seasons as Bucs offensive coordinator.
Joe talked to Mike Glennon about this yesterday.
First, Sullivan got a Bucs-record-setting year out of mentally challenged Josh Freeman in 2012. Freeman put up big numbers as the Bucs had the NFL's ninth-ranked offense.
Sully's quarterbacks coach Ron Turner bolted, and the next year Sullivan was stuck with Schiano confidante Josh McNulty to help him mold Glennon. Keep in mind, McNulty never played quarterback, bombed as a QB coach in Arizona, didn't believe in teaching mechanics in Tampa, and is now bombing again as the hand-picked QB coach for Marcus Mariota under ousted Ken Whisenhunt.
But through all the obstacles, including meddling Schiano, Sullivan got Glennon ready to play as a rookie on short notice. And today, Glennon is better than 20 percent of NFL starters.
"I learned a lot from him. He really helped me," Glennon said of Sullivan. "He had a unique package that he liked to run. I would have liked to have gotten more time in it, just more time to get used to it, especially since it was my first year and got a late start the way I did. He has a system that's really good. I just think you need more time in it. But it's hard to pinpoint key things I learned most from him. There was an awful lot. I definitely miss having him around. He was a really great guy."
Sullivan, the former U.S. Army Ranger and West Point grad, is in his second stint as quarterbacks coach for Eli Manning. He was re-hired early this year.
Manning will tell you he thrived under Sullivan in a totally different offense years ago. Now, Manning comes to Tampa on Sunday with 17 touchdowns and four interceptions and completing two-thirds of his passes in a radically different west coast offense.
Sullivan, aka "Sully," might have been the classiest guy to walk through One Buc Palace this century. Joe wishes him well.