Sapp Served As McCoy's On-Field Coach
November 15th, 2015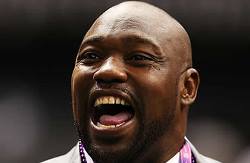 A leaner, less-meaner-looking Warren Sapp was patrolling his house this afternoon and was on the sidelines for much of the Bucs-Giants game.
Speaking after the Bucs' win, Gerald McCoy (one tackle on the day) told Joe and assembled media that he was seeking his friends Sapp's advice during the game.
"I talked to [Sapp] a couple of times. I asked him for advice on a couple of plays," said McCoy, who wouldn't offer more detail. The implication was that Sapp delivered. (Did you really think Sapp would keep his opinions to himself?)
Remember, McCoy was clear Wednesday when he said that Sapp's mentoring orders after the Giants loss were weighing heavily on his mind.
McCoy brought little heat today on Matt Cassel, but the Bucs' run defense was standout.
Perhaps today was a small step toward McCoy returning to Pro Bowl form.