Saluting The Veterans
November 11th, 2015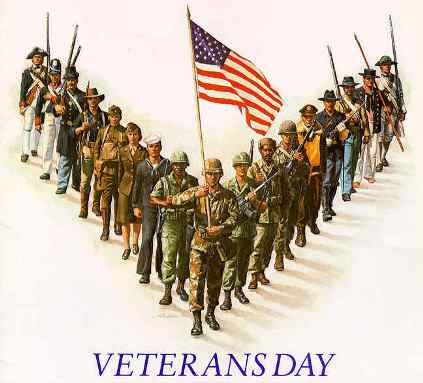 Joe just wants to take a moment to thanks both those who served in uniform for our country, and those currently serving.
Joe knows that there are guys (girls?) out there serving overseas that read this site daily, and Joe is thinking of you today and is appreciative of your service. Thanks to all, past and present.
Both Joes who run this here site had fathers that served in the Pacific Theater in World War II, so we understand what your service means. It is because of folks like you, Joe is able to guzzle beer and watch football all weekend long (when not covering the Bucs). If not for honorable people like our veterans, Joe might be subjected to drinking some sports drink and watching soccer, if you can imagine such a dire existence.
Joe will perform his Veteran's Day tradition and encourages others to join in. Joe goes to a local VFW or American Legion Hall each Nov. 11, drops cash on the bar, orders the bartender to buy each veteran a round, and then Joe walks out. A small token of gratitude to those who served.
Thanks!