Rare Outside Move For Gerald McCoy
November 17th, 2015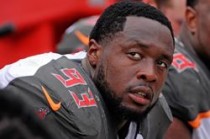 There are a couple things very out of character in a video released by the Tampa Bay Buccaneers.
The video here starts with Jameis Winston, America's Quarterback, leading his teammates in a wild pregame dance and rally.
That's not out of character. That's Jameis with his men feeding off his energy.
What is out of character is Vincent Jackson bouncing up and down and smiling and screaming like he's a one of those teenagers in the front row of a 1950s Elvis concert.
What's also out of character is Gerald McCoy not participating and looking disinterested. Joe has no explanation. You'll see McCoy on the outskirts of the Bucs' team circle, with a serious look and body language that isn't one of a fired up team captain.
McCoy is the kind of guy who typically is drawn to fun and excitement. He's led those pregame rallies himself. In fact, McCoy even loves to dance, as evidenced in this Harlem Shake video (he's in the Batman costume).
Joe isn't sure what to make of McCoy's behavior. Perhaps he was just getting "his mind right," as Jameis ordered following his dance.