Position Perfection
November 17th, 2015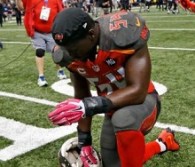 The stat geeks may not be aroused by Lavonte David's solid game against the Cowboys, but those with much deeper knowledge see perfection.
Joe's talking about Lovie Smith, Bucs defensive play caller, head coach and former mentor and coach of Derrick Brooks.
Lovie turned the film on of David' latest showing and saw consistent perfection in one aspect of his game.
"Some games the [Will linebacker] position will require you to make a lot of tackles," Lovie said on the Buccaneers Radio Network. "Sometimes it will require you to make tackles and maybe a couple of sacks, too. And then when you get an opportunity to finish up the football, and that doesn't happen every week, but when you do, you just need to be in position. Lavonte was in position to make all of the plays that the defensive required him to do yesterday."
Those are pretty strong words, claiming David was in perfect position on every play. If he can do it once ….
The final stat line on David was five solo tackles and seven assists. Undrafted rookie cornerback Jude Adjei-Barimah led the Bucs in solo tackes with six.