Panthers Fans Are Crushing Bucs Fans
November 26th, 2015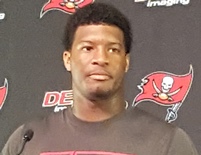 Some embarrassing data, real numbers, have appeared on BSPN.com.
They're not pretty for Bucs fans.
Early results of Pro Bowl balloting are in, and 13 Carolina Panthers have the most votes in the NFL, or the second-most votes at their respective positions.
No Buccaneers made the cut.
What the hell? It's not like Carolina is a big market, or a wildly popular team nationally. Their fans are just stepping up. There's no other explanation.
If that can't inspire you to vote, then Joe's not sure anything could. Click here to register your Pro Bowl votes. Joe just did. Twice.
Fan voting represents one-third of the decision on who earns a Pro Bowl berth. Another third is coaches votes, and the final third goes to players' votes.