"No Better Example Of Player And Team Fit"
November 20th, 2015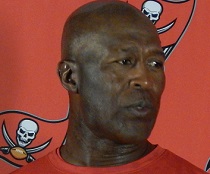 Renowned NFL Films guru Greg Cosell also works with the Eagles as part of a regular Xs and Os podcast on their official website.
This week, Cosell dove into all things Bucs in preparation for the Philly-Tampa Bay matchup on Sunday.
Cosell raved quite a bit about 21-year-old rookie Kwon Alexander. He said his pre-draft notes specifically stated Alexander, at 227 pounds, was the perfect Lovie Smith linebacker. And Cosell believes Alexander has delivered big time.
He considers Alexander and Lavonte David a premier NFL linebacker tandem and Alexander is "no better example of player and team fit."
The emerging consistency of the Bucs' defense — not greatness, consistency — is allowing the Bucs to blitz more, Cosell says, and run various defensive variations not often seen under Lovie Smith.
Cosell also had warm and fuzzy things to say about Jude Adjei-Barimah, the new starting undrafted cornerback.
Of course, Cosell, like most dissecting the Bucs, has great admiration for the disruption caused by Gerald McCoy.