Lovie's Soundest Personnel Move?
November 16th, 2015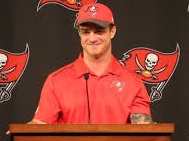 Joe finds it rather easy to assign blame or praise to Buccaneers personnel moves. There's either a Lovie Smith move, a Jason Licht call, or a true joint decision.
There are many examples.
Take Josh McCown. That clearly was a Lovie move. If Jason Licht was interviewed by Team Glazer and said he wanted to launch the regime with McCown pegged to lead Tampa Bay to the promised land, then Joe is certain Team Glazer not only would have passed on Licht but ordered him to seek counseling and an appointment with the Glazer family optician.
A Licht move would be, for example, every call made on the offensive line, from drafting Ali Marpet, to plucking Gosder Cherilus off his couch, to the Anthony Collins-Donald Penn debacle, to finding a fifth-round score with Kevin Pamphile, and many more.
One Lovie move Joe really must tip his cap to this morning is the offseason signing of formerly brittle Chris Conte, Lovie's old starting safety with the Bears. Conte, 26, was hand-picked in free agency. Many Bears fans were sick of his string of nagging injuries, multiple concussions and declining play.
Conte came to Tampa, missed all of training camp with a pulled hamstring, played a handful of preseason snaps, and has since started every game at safety.
Through nine games, Conte has been steady and healthy, and flashed at times, like he did yesterday with 5:42 left in the game. Leading 6-3, the Cowboys started what could have been a game-sealing drive at their 9 yard line. Conte dropped running back Darrin McFadden for a seven-yard loss. It was a massive, massive, crunch-time play, the kind Bucs fans seek from Gerald McCoy and Lavonte David.
Conte leads the Bucs in solo tackles. No, he's not a great player. But he's been a great pick-up and a solid starter.
Well done, Lovie.