Lovie The "Luxury"
November 23rd, 2015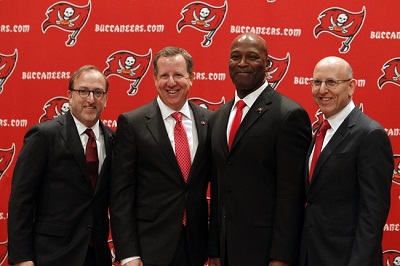 Lovie Smith is known behind the scenes as an organized guy, a guy with goals and plans and a system.
Oh, don't you dare question that system. Lovie will tell you it's a proven winner and shut you down if he sniffs a whiff of doubt.
That's Lovie. Proud of his team, proud of his record, proud of his family, proud of his glass-half-full approach to life.
All that was tested to the extreme during and after 2-14 last season, when Lovie made more mistakes than a drunken Vegas gambler. And then came opening day 2015 against Marcus Mariota and the Titans, and Lovie got blowtorched. The smoke under his hot seat lingered for weeks.
But Lovie did not waver, and he stuck to his goals and plan. The defense has been repaired, (not perfected, repaired), the 21-year-old franchise quarterback has been groomed and handled masterfully, and the team is peaking when Lovie demands it — in November.
Lovie's resolve is paying off. Joe feels comfortable saying there are no non-believer residents of the Bucs' locker room, (though Demar Dotson looks a little sad on the sidelines).
Joe asked Gerald McCoy yesterday what he can say about his head coach after bouncing back from 2-14 and an embarrassing opening day, and all the hate that comes with it.
McCoy said Lovie is a treasure.
"We have the luxury of having a head coach who's won at every level he's been at, whether he's a position coach, a coordinator or a head coach. So he's seen the worst of the worst and the best of the best. So it's great to have a guy like that," McCoy said. "Like I said, every day, guys are real happy he never changed. He's the same day in and day out."