Lovie Explains Why Jameis Isn't A Rookie
November 17th, 2015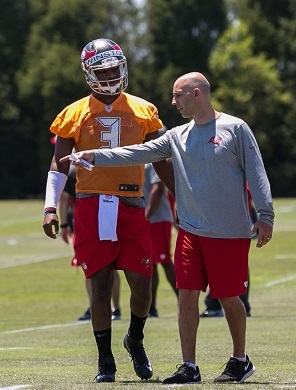 Lovie Smith declared at his Monday news conference that America's Quarterback, Jameis Winston, is not a rookie any longer.
The head coach explained himself during his evening radio show.
Speaking on the Buccaneers Radio Network, Lovie was adamant that the rookie Jameis is ancient history. Heck, Lovie wasn't even asked why he considers Jameis an experienced player. He just wanted to tell the world.
"Let me jump in. Ok, he's a rookie. How many games has Jameis played? This is 9-plus; throw in the preseason games. He's been out there, you know, that's a college season," Lovie said. "Now, yeah, I guess they're rookies because it's their first year, but they've seen a lot and that label should kind of leave them a little bit.

"[I don't treat them as rookies.] Not at all. And not any of them. Same thing with Kwon Alexander. We have a lot of players, so happens it's their first year. But they have a lot of experience for first-year guys. Donovan Smith, Ali Marpet. [Being a rookie], that hasn't crossed their mind in a long time.
This Bucs rookie class has been extraordinary to date. The first four picks, the guys Lovie referenced above, are solid starters at least. Marpet, Jameis and Alexander are legitimate Rookie of the Year candidates.
And where will these guys be today, on their day off? At a Pinellas County middle school greeting kids and presenting a donation to the school from the Buccaneers.