Lavonte David Picks Top Trash-Talking Teammate
November 11th, 2015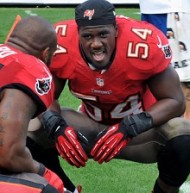 So who's the biggest big mouth Lavonte David has played with in his four seasons as a Tampa Bay Buccaneer?
The question was posed to David on the Buccaneers Radio Network this week, and David didn't have trouble picking a winner.
Trash talker No. 1 is Ronde Barber. David gave a second-place vote to Aqib Talib.
It's interesting that Barber was named. He doesn't fit the stereotype of the big talking bad ass.
That also makes Barber's on-field persona totally different from that of Gerald McCoy, Clinton McDonald and David, this year's defensive captains.