Lavonte David Happy To Be Cold
November 24th, 2015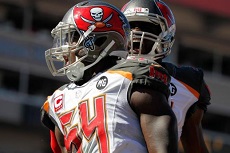 Joe was in chilly Philly on Sunday, where fan rage flowed at the home team in the second quarter.
After halftime, the Bucs' defense dealt with a different challenge.
The Tampa Bay offense came out of the halftime break and executed a sloppy but very effective 10-minute touchdown drive, a real backbreaker for Philadelphia, but a little tough on the Bucs' defense.
The defense, after coming through the tunnel following a 12-minute break, had to wait out a whopping 22 snaps, too many of them penalties.
Speaking on the Buccaneers Radio Network last night, Lavonte David said his unit was forced into stretching exercises to stay loose — and to overcome the temperature.
"We had to get ourselves warm,"  David said. "I found myself pacing up and down the sidelines, then getting up and down from the benches."
David went on to say it probably was the longest drive he's experienced, but he'll take the rest anytime, especially against a rapid-fire offense like Philly's.