Lavonte David Earns NFC Defensive Player Of The Week
November 25th, 2015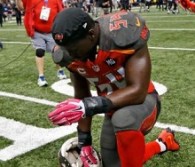 Lavonte David has answered the bell in the second half of this season.
David struggled in the first half, highlighted by many missed tackles, a key dropped interception, and a severe dropoff in play from previous seasons.
But David has put two strong games in a row on film. Two weeks ago, Lovie Smith said David was in perfect position on every single defensive play. On Sunday, he was a catalyst against the Eagles with more solid play and two interceptions.
David won the NFC Defensive Player of the Week award today. Go get it again Sunday, Lavonte.