"I'm Kind Of A Scaredy Cat"
November 24th, 2015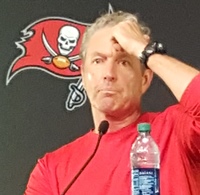 Bucs offensive coordinator Dirk Koetter is a man with fears — and it's not because he watched film of Josh McCown leading the Tampa Bay offense last year.
Koetter said last night on the Buccaneers Radio Network that he isn't always as big a gambler as the men who work under him on his offensive staff.
"I'm kind of a scaredy cat," Koetter said.
A great example, the co-savior of the Bucs offense explained, is that the touchdown slant pass to Vincent Jackson in Philadelphia on Sunday almost didn't happen.
"We didn't complete that in practice one time. It looked terrible all week in practice," said Koetter, who wouldn't reveal who convinced him to keep that play in the game plan.
Koetter also said that he is consistently telling offensive coaches to dial back their expectations of America's Quarterback, Jameis Winston, when it comes to crafting the plays of the week. Koetter said it's so easy to forget Jameis is 10-game veteran, and the team still needs to protect him from potentially dangerous situation.