"I Kind Of Got In The Way"
November 25th, 2015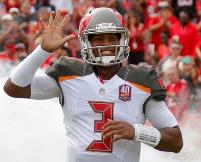 America's Quarterback, Jameis Winston isn't listening to his coaches, not fully.
Joe asked him about it today and Jameis said he's proud to rebel in one area.
Sunday in Philadelphia, Jameis hurled himself into the offensive line throwing a block for Doug Martin, but Jameis isn't supposed to do that.
He's done that before and coaches have scolded him publicly.
Joe asked Jameis today if Sunday's block was something that got him chewed out and was a mistake. Jameis opened up.
"I didn't really block that time. I did a better job. I kind of got in the way. So that'll show you that I'm really learning not to throw my body in there," Jameis said with his tongue in his cheek. "But it was 3rd-and-1 and I will take that yelling at every single time. If it's me and a defensive end right there, and Doug Martin needs to get one yard, and I can help him get that one yard, I'm going to take that yelling, man. Sorry."
You gotta love the spirit of America's Quarterback, but he simply can't be blocking like that. It really isn't a team-first move. The Bucs need him healthy and blocking at the line of scrimmage isn't the way to stay safe.