"I Don't Have To Be 100 Percent. That's Not My Goal."
November 14th, 2015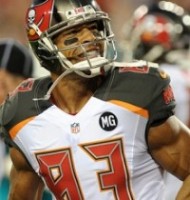 Vincent Jackson shared his philosophy on returning to the playing field.
Speaking on the Buccaneers Radio Network last night, Jackson said his knee injury 20 days ago against Washington is a waiting game with the Bucs' medical staff. Jackson said he's feeling better but not ready.
However, V-Jax made it clear that he's not looking for a perfect health exam to get on the field.
"I'm definitely going to come back, whenever I feel I can play football. I don't have to be 100 percent. That's not my goal," Jackson said. "My goal is to be able to be productive, obviously, not risking king myself for further injury. You know, being able to stay on the field. So that's the goal."
The significance of Jackson's injury is unclear. The Bucs aren't talking. But Joe learned last week that Jackson's initial prognosis was six weeks.
"I'd rather not come back too soon and then possibly aggravate it," Jackson said, "or do something that makes it worse and then possibly miss a longer period of time possibly the rest of the regular season.