"He's Gonna Be Lickin' His Chops"
November 6th, 2015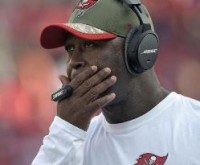 So which quarterback will salivate more while looking at the opposing defense on Sunday, Eli Manning or America's Quarterback, Jameis Winston?
Former NFL quarterback Brady Quinn and prickly Pete Prisco say Jameis will be that guy. Both said, "He's gonna be lickin' his chops," in the CBS video breakdown below.
However, Pricso, Quinn and former linebackers coach and Jets personnel chief Pat Kirwan all pick the Giants to beat the Bucs. Kirwan and Prisco even predict comfortable victories.
The Bucs sure will shake up the national landscape if they can knock off the Giants.