Gerald McCoy Silences Vulgar Philly Heckler
November 28th, 2015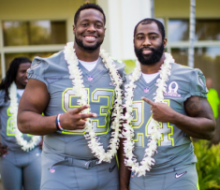 Leave it to Gerald McCoy to break the evil spirit of a vile Eagles fan.
Speaking on the Buccaneers Radio Network this week, McCoy explained that Philadelphia fans lived up to their notorious reputation of inappropriate behavior on Sunday.
McCoy countered that with words of peace and kindness, and it worked.
"It was everything I thought it was going to be," McCoy said. "I'm just who I am. So when I walked out, fans did some inappropriate things I can't say on the radio because there's children listening. But they did some things with their hands and, you know, and they said some inappropriate words. And I looked at a couple of fans and they told me how much I suck, and I'm not good and all this.

And I was like, 'Is all that necessary? We're just trying to play a football game. Why you got to do all that?

And the guys, they just looked at me and got real quiet. It was like, "'You know what man, I'm sorry. I'm sorry.'"
Joe enjoyed McCoy's story. Warren Sapp would have handled that situation, um, differently.
McCoy said the Philly-fan rage "was so over the top" but his attitude stayed light hearted, in part, because a Bucs staff member joked to him about the haters, "Gerald, I didn't know you had family here."