Gerald McCoy Anchors NFC Best Run Defense
November 9th, 2015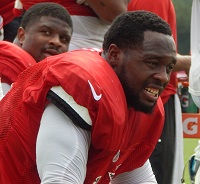 No NFC team does a better job when its opponent hands off than your beloved Tampa Bay Buccaneers.
That's right, folks.
Teams average just 3.7 yards per carry against Tampa Bay. That includes the heralded fronts of the Panthers, Seahawks and Rams.
What does that say about the Bucs' front-7? Chew on that over your afternoon sandwich and Tums.
The data can be argued in all kinds of directions, but the facts are the facts. What's also a fact is opposing quarterbacks complete 70.2 percent of passes against the Bucs. And that's why Tampa Bay allows far too many points.