Exiting Loserville
November 7th, 2015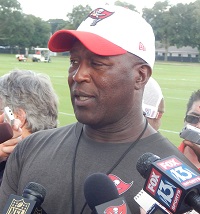 For nearly three years, Bucs fans have slipped on their logo t-shirts and hats and wondered who will laugh.
That's how long it's been since Tampa Bay had a .500 record in November.
And that's what makes tomorrow's game against the Giants extra important. Bucs fans desperately need to taste pride again. A two-game winning streak at home and a 4-4 record? Joe might have to retire the Den of Depression nickname for the home turf.
Mike Glennon winning rookie of the month in Nov. 2013 wasn't enough, and neither was Gerald McCoy making three consecutive Pro Bowls. Even winning the Chase for Jameis couldn't quell the shame of wearing that Bucs gear in Publix.
Only winning matters.
A victory tomorrow and the Bucs finally exit loserville. One week of extreme pride would be guaranteed. Bucs bikinis might even reappear on Clearwater Beach.
Joe's nearly praying for a win, and not just to cancel out the rampant Lovie and Jameis haters that yearn for a loss. Joe wants to soak in that special feeling one more time.