"Elongated Arc" Still Plaguing Jameis
November 17th, 2015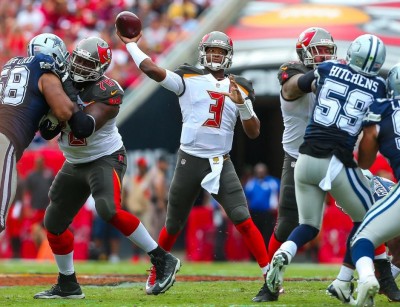 America's Quarterback, Jameis Winston, landed with the Bucs as an NFL-ready prospect, but that doesn't mean he's a finished product.
And that's part of what is so exciting about the 21-year-old Tampa Bay leader.
Former Bucs QB and current BSPN quarterback guru Trent Dilfer is a big Jameis supporter and part of Jameis' eager group of mentors.
Dilfer talked on WDAE-AM 620 today and shared that four years ago he was coaching Jameis on throwing mechanics at his camp for high school gunslingers. Back then, Dilfer said, he was working with Jameis on release points and throwing arcs, and that's an issue that adversely affects him today.
"Most release points are about the same, six to 11 inches off the front the front toe when it plants," Dilfer said. "The arm actually goes up as the ball is release. You look at it at 1,000 frames per second. Even Philip Rivers, who looks like he's throwing sidearm, releases it within, relative to their height, about the same place as everybody else.

"What you're seeing [with Jameis] is an elongated arc of the ball, which then tends to have the ball sail."
Dilfer said he had the same problem as a professional, and it's an "easy fix" that simply requires an offseason commitment. Jameis said Tom Brady and Drew Brees have spent extensive offseason time on mechanics, and typically about 20 percent of what a QB works on will stick.
Enjoy all of Dilfer's interesting chat via the 620wdae.com audio player below.