Down On The Eagles!
November 20th, 2015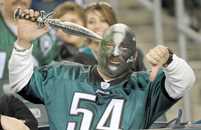 Philly sports fans are notorious. They are emotional, hardcore, passionate. But they demand excellence.
Legend has it that if the Eagles aren't playing well, the locals will turn on them quickly. Well, here is evidence.
In a CSNPhilly,com video, Rueben Frank and Dave Zangaro totally unload on the Eagles for losing to the Dolphins. And you just may be surprised by the duos pick for Sunday's Bucs-Eagles game.
Enjoy!