Don't Re-Sign Doug Martin Until After The Season
November 24th, 2015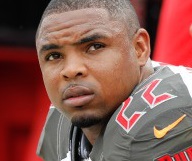 Running backs worth a big investment need to prove they can finish a season and be healthy enough for nasty physical playoff football.
Doug Martin hasn't done that since 2012.
Joe doesn't think the Bucs should break any bank for Martin unless he can come out of this season healthy and strong. Rushing to ink Martin now, like many have suggested — and even Lovie Smith suggested — is just plain silly.
If Martin gets through this season healthy and with a couple more 100-yard games, then he's probably looking at 1,400+ rushing yards and a golden ticket in free agency. Martin could approach DeMarco Murray money on the open market, about $18 million guaranteed as part of a deal that pays him $8 million a year.
Great. Pay Martin what he's worth. But don't pay him until he gets through a full season.
Joe would even consider dropping the franchise tag on Martin and making him prove one more time that he can grind out a full season. In fact, Martin might be the perfect candidate for that franchise tag.
Regardless, Martin should want to stay with the Bucs. First, he recently bought a house in Tampa and claims he loves the area. Second, what running back would want to bail from this Bucs offensive line, plus a head coach who deeply loves to run the football? Lastly, playing with America's Quarterback, Jameis Winston, should keep defenses from stacking the box against the Bucs for years to come.
Good running backs are easy to find. Great ones are not.
If Martin gets through this season healthy and strong, then he'll have proven that he's great. But until then, he's just another talented guy trying to get through a season at the most brutal position in the game.