Bucs On Pace For NFL Record 162 Penalties
November 8th, 2015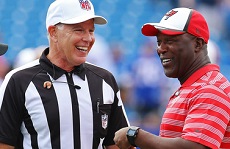 Halfway through the NFL season the Bucs have yet to execute the "we'll clean it up" Lovie Smith keeps talking about when it comes to penalties.
Tampa Bay was back at it shooting themselves in the foot against the Giants today. Nine penalties for 79 yards. They came in all shapes and sizes, offense, defense and special teams.
The Bucs now have 81 penalties through five games. That's a pace for 162 on the year. That total would bust the NFL record of 158 held by the 1998 Chiefs, whose coach wasn't their coach the following season.
The teams ranking second, third and fourth sloppiest of all-time also got new coaches after their respective seasons.
Joe's not calling for Lovie Smith's head because of penalties. But the total is astounding and a problem that won't go away.