Back In The Playoff Hunt
November 1st, 2015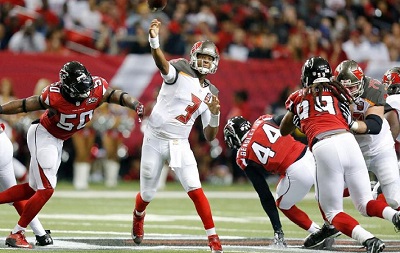 You better believe it, Bucs fans.
When you're 3-4 and 2-1 in the division, and playing in a weak conference, you're in the playoff hunt.
That's where the Buccaneers sit today.
Tampa Bay is 3-4 with a 2-2 conference record.
Sure, the Bucs still sit in the NFC South cellar, a half game behind 4-4 New Orleans.
But next up in Tampa are the 4-4 Giants, a very beatable team that coughed up 52 points to the Saints today. Then come the Cowboys to Tampa, minus Tony Romo.
No. Joe's not pulling victory bong hits at the Georgia Dome. The Bucs are still a subpar football team. But the record keeps them in the hunt, and with America's Quarterback, Jameis Winston, on their side. Anything is possible.