All Aboard The Bandwagon
November 23rd, 2015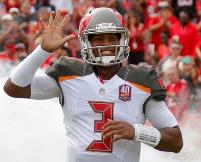 Look what two wins in a row can do:
The Tampa Bay community is riding cloud nine this morning after the Bucs seal-clubbed the Eagles yesterday. Today brings the depressing reminder to locals that, yes, summer is over and winter nears. Yuck!
It could be 10 degrees outside and Bucs fans wouldn't notice as they skipped to work with smiles plastered on their faces.
Yes, two wins in a row — a rarity in these parts — has that affect on people. And so does the word "playoffs."
"PLAYOFFS?!"
Yes, the Bucs are in the playoff hunt, an unthinkable position just a few short weeks ago when we wondered aloud if Lovie Smith would return next season. A few days before Thanksgiving, it's hard to fathom Lovie not returning.
But enough of that. It's about the future. And heavy metal head-banging Jason La Canfora of CBS Sports believes the surging Bucs have as good of a shot of meaningful January football as the other 5-5 teams.
I actually think this group can hang around and give the Tampa fans some meaningful late December football for the first time in a long time. Sunday's pummeling of Chip Kelly — a man who if you recall once agreed to coach the Bucs and then later reneged, resulting in the desolation of the Greg Schiano era — sent a message that this team can get it done against the legion of middling teams that comprise much of the NFL in 2015. This must have served as another confidence boost for a young team that has struggled to merely win consecutive games in recent years.

They suffocated the Eagles for 60 minutes on both sides of the ball. There is no other way to put it. Winston was a dervish, continually converting on third-and-forever, tossing five TD passes to five different teammates and moving the pocket expertly. He delivered fastballs to the hands and perfectly lofted lobs into space when need be, and his progress from week to week has been substantial. The respect and admiration his teammates have for him is evident and he and Mike Evans have found the kind of chemistry that could lead this team to big things down the road.
Let's not get ahead of ourselves here. The win over the Eagles is nice. But the Bucs have to take advantage of the favorable schedule table set before them.
So far, so good in Philly. Now it is on to Indianapolis and the Andrew Luck-less Colts.