Will Miller Time Equal Jameis Time?
October 8th, 2015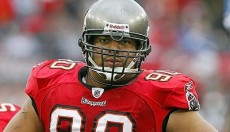 One of the great unspoken mysteries of the 11-win Greg Schiano regime could come back to haunt the Bucs on Sunday.
Joe's talking about Schiano saying he really wanted defensive tackle Roy Miller to return in 2013, after the Bucs sported the NFL's No. 1-ranked run defense. But Schiano was denied by a more powerful force. (Joe recommends the link. It's a neat piece of Bucs history. Believe what you wish. It's a mystery. Perhaps the answer lies in whoever kicked Michael Bennett out the door at the same time.)
Miller made his way to Jacksonville in 2013 free agency. Not only did Miller sign a two-year contract, he inked a second deal with Jacksonville in December, a four-year, $16 million payday.
They love Miller in Jags country. And at 28 years old, Miller, a third-round pick of former Bucs rockstar general manager Mark Dominik in 2009, is a key cog in the Jaguars' stout run defense.
That's a huge key on Sunday, as the Jaguars have the NFL's fourth-ranked run defense. And the Bucs are relying heavily on pounding the rock with Doug Martin.
It sure smells like Jaguars head coach and defensive guru Gus Bradley will make Jameis Winston, America's Quarterback, beat him through the air, especially after Jameis played so ugly last Sunday.