Why Dink And Dunk?
October 4th, 2015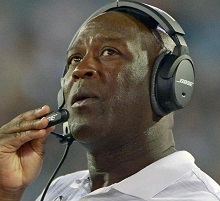 You have got to be s(p)itting Joe!
The Bucs, after a woeful start, had a chance at the end of the first half to tie the game 17-17. America's Quarterback, Bucs signal-caller Jameis Winston is famous for last minute drives, and he had the Bucs marching in the Stinking Panthers red zone.
With two of the tallest receivers in the NFL, Joe thought surely the Bucs would lob at least one pass in a far corner of the end zone so Mike Evans or Vincent Jackson could catch a jump ball. But no, the Bucs went dink-and-dunk over the middle to chew up valuable clock.
Joe guesses Lovie was trying to set up Kyle Brindza, who has the aim of Mr. Magoo, for a short field goal.
How the hell did that work out?