"We're Going To Work On That This Week"
October 7th, 2015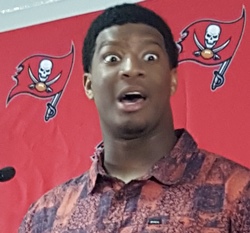 One duty for Jameis Winston is to chat via conference call with the local media of teams about to face the Buccaneers.
America's Quarterback did that earlier today with the Jacksonville crew.
Per notes sent to Joe by the Jags, young Jameis was asked what's going on with the Buccaneers only scoring six first-quarter points this year. "Is it unforced errors?" Jameis was asked.
"Our objective is to start fast but we're getting better every week. We're going to work on that this week," Jameis said.
Of course, a big reason is Jameis' interceptions, but it's surely not the only reason.
The first-quarter results are fresh food for the anti-Lovie Smith crowd. The head coach was preaching in the spring and summer how important it would be for the Bucs to start games fast, and it's been a team focus into the regular season.
Something isn't clicking there. It reminds Joe of how Raheem Morris' teams were consistently ugly in the first half, and then Raheem typically pulled a different team out of the locker room — win or lose.