Same Mystery, Different Year
October 5th, 2015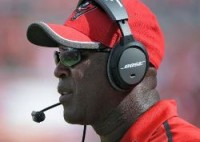 "Right before the half, I didn't want to put more points on the board. I didn't feel like we could. Only thing that could happen was something bad then." — Lovie Smith, following the second home game of the 2014 season.
That's right. Last year's words foretelling yesterday's disbelief.
Joe's already written plenty about the Bucs going into turtle offense mode late in the first half yesterday, but the giant thorn in Joe's rectum is Lovie Smith's decision with six seconds left in the half. On first down at the Carolina 11 yard line, trailing by seven points, Lovie didn't take a shot in the end zone before attempting a field goal.
Six seconds! That's just plain wrong. A shot in the end zone from would take four or five seconds maximum. Maximum!
What kind of identity is being established when you play like scaredy cats at home? Why invest gargantuan cash on big receivers, the Dunkaneers?
Just mind numbing stuff.
As for last year's quote referenced above, against St. Louis, the Bucs were on their own 40 yard line with 11 seconds remaining in the first half, at home in Week 2. Despite a timeout in his picket, his handpicked quarterback at the helm, and those same big receivers, Lovie took a knee and headed for the tunnel.
The Bucs lost by two points.