Mike Evans Awards Most Impressive
October 9th, 2015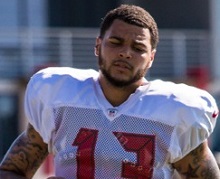 It's always fun when a Buccaneers player gets a direct question — and actually answers it directly.
Mike Evans was in that boat last night during his show on the Buccaneers Radio Network on WDAE-AM 620.
Evans was asked by a fan to name what Buccaneer has impressed him most in 2015.
Evans paused, made some thinking sounds, and said he had to give co-honors to Donovan Smith and Ali Marpet, the Bucs' rookie offensive linemen, second-round picks thrust into the starting lineup.
Their work ethic and play was praised by Evans, and he stressed how much they stand out as rookies. Evans also noted how Marpet has plenty fight in him.
Joe is filled with pride that Evans made those choices. It says quite a lot. He could have picked Jameis Winston, America's Quarterback, or his wide receiver mentor, Vincent Jackson, or anyone else.