Lovie: "Easily Could Have Been 17-17 At The Half"
October 7th, 2015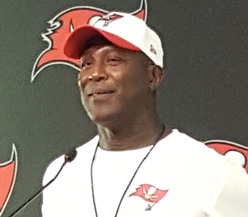 As Joe rids the last shred of anguish from the Bucs' clobbering at the hands of the Panthers on Sunday, Joe must share the final nugget from Lovie Smith that's been keeping Joe pounding vodka at JoeBucsFan.com world headquarters into the wee hours.
Speaking on the Buccaneers Radio Network on Monday evening, Lovie was breaking down the game with host T.J. Rives and talking about how he liked how Tampa Bay bounced back after falling behind 17-3.
During chatter about the Bucs' drive that ended the half with Tampa Bay trailing 17-10, Lovie said, "It easily could have been 17-17 at the half."
Yes, Lovie emphasized the word "easily."
Man, Joe just can't understand what goes on his Lovie's head. The Bucs didn't take shots in the end zone as the clock ran down toward halftime, despite possessing giant targets in Vincent Jackson and Mike Evans. The Bucs went into turtle mode.
Also, with six seconds remaining in the second quarter, first down from the Panthers' 11 yard line, Lovie ran out his horrible field goal kicker, despite enough time for a back-of-the-end-zone throw and a field goal try, if necessary.
It was Lovie who did plenty to prevent a touchdown drive at end of the half, yet it's Lovie who said the game "easily" could have been tied at halftime.
Somebody, please, help Joe make sense of this.