Local Columnists Hammer Lovie
October 5th, 2015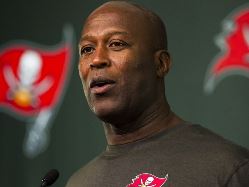 Joe knows one human who reads a printed newspaper regularly. That's about it.
But Joe's heard that these newspaper sports columnists wield influence over the elite class.
The two big guns in town, Joe bashing Tom Jones of the Tampa Bay Times and Martin Fennelly of The Tampa Tribune, whipped out their swords last night and sliced Lovie Smith. They didn't cut off his head, but they came close.
Jones is troubled by how Lovie regularly claims the Bucs are improving but it's invisible to the naked eye.
Then the next week comes and the Bucs get their teeth kicked in again, just like Sunday's 37-23 loss to the Panthers.

Enough already. Enough with the excuses and enough of the hollow promises. How about some coaching?

Just spitballin' here, but instead of talking about how your team is getting better, how about actually getting better?

But it isn't getting better. It never gets any better. And it's obvious as to why: coaching.

The Bucs might not have a ton of talent, but want to know why they are so lousy? Because the guy in charge is doing a lousy job. And if things don't start getting better real soon, he should do his Bucs analysis as a broadcaster instead of a coach.

"All losses are disappointing," Smtih said, "but we shouldn't be getting beat that way."

Yeah, you shouldn't. So, Lovie, what makes you think this mess is getting any better?
Fennelly ventured down a similar path with his skewering of the head coach.
How many times in this 10-game streak, or the 3-17 one, has Smith not had his team ready to play? The Panthers jumped the Bucs. I don't even think Carolina is that good, even at 4-0, but the Bucs were no match for them, even with the Panthers missing linebacker Luke Kuechly.

Even when they had a chance, the Bucs didn't have a chance.

Lovie's Bears teams used to feast on the other team being sloppy.

Now the Bucs are the ones who are the mess. Mistakes everywhere.

Well-coached teams just don't give games away.

All I know is that on the day the Bucs honored Mike Alstott, the A-Train, they took another trip on the L train, straight through the tunnel of Lovie.

How many times can we listen to Lovie say his team shouldn't be beaten that way? Or that the week of practice, the preparation, said they would play better than they did? Or that the results don't show it, but they're better than that loss? Or that these are correctable things, fixable things? Or that eventually things will come together?
Feel free to click on the links to the full columns above, or just buy a newspaper. They could use your spare change as they try to survive.
As for Lovie's survival, well, he just needs to win — immediately.