Injured Groin Pulls Mankins Out Of Practice
October 8th, 2015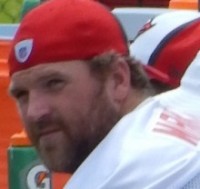 Ouch!
Nothing like news of a bad groin to make a man count his blessings.
Logan Mankins has an injured groin, Lovie Smith revealed this afternoon. Apparently, it happened yesterday and Mankins missed practice today.
Various reports claim the remaining Milk Carton, tackle Kevin Pamphile, was seen playing left guard at today's session.
Lovie wouldn't talk about Pamphile playing guard at his post-practice news conference. Lovie said he doesn't discuss a player playing a position he hasn't played before for the team. Um, ok. That was an interesting explanation Joe hadn't heard previously.
With a bye week coming after the Bucs-Jaguars game, Joe sincerely hopes the Bucs rest Mankins on Sunday if his groin is dicey. They can't afford to lose him for the season.
However, Sunday is such a huge game for the state of the franchise, and Mankins is earning $7 million per year, Joe suspects Mankins will be out there if he can play.