"I Don't Think It's Where I Wanted To Be, But I Still Got Time."
October 20th, 2015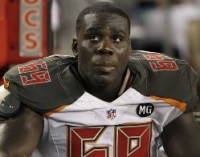 Nine weeks after wrenching his knee in Minnesota, former starting right tackle Demar Dotson is back at practice but he's not ready to call himself healthy.
Dotson talked to the Tampa Bay pen and mic club today at One Buc Palace and explained how he can't wait to test his knee at practice today, but he knows his rehabilitation journey isn't over.
"I don't think it's where I wanted to be, but I still got time," Dotson said. "It's been a long road, but it's not done yet."
Doston can be reactivated Monday, Nov. 2, if the Bucs choose to remove him from the "injured reserve designated for return" list.
Joe realizes loads of fans are clamoring for Dotson to jump back into the starting lineup, but Joe is calling for a reality check. The guy is nowhere near football shape, and the Bucs' O-line is performing quite well.
Let Dotson get stronger and be the backup left and right tackle. It's not like he's that great. He is the common denominator on the unsuccessful offensive lines of the 2013 and 2014 Buccaneers.