"I Didn't Feel Like We Lost"
October 30th, 2015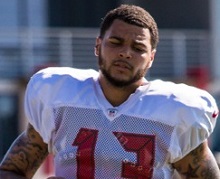 The groin-stomp loss to the Redskins on Sunday was just that, a horrific shock to the system. Mike Evans took that to a new level last night.
Speaking on the Buccaneers Radio Network, Evans said the loss was so shocking he couldn't accept it.
"Nothing hurts as bad as that. That was unrealistic. I couldn't believe it. It was unbelievable," Evans said. "It just didn't hit me. It didn't hit me until the next day. I was like, 'Man, we really lost.' I didn't feel like we lost. But in the win column, we didn't get one. They got a win. It hurt."
That just about captures the emotion perfectly. Joe  hopes the Bucs have the mental makeup to bounce back from a loss that devastating and ridiculous.
A trip to Atlanta, a back-to-back road game, feels like a lethal poison. The Bucs must find a way to start fast again to regain some confidence, and keep the Falcons and their crowd in check.